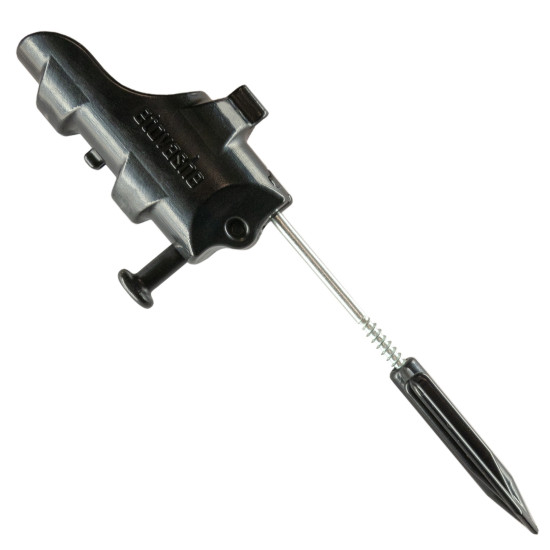 Holder Etovashe for ice fishing rod Sputnik
stock:

in stock

brand: Etovashe
SKU:

EE-PDZY-001

weight:

65.00г

dimensions:

55.00мм x 75.00мм x 160.00мм
more photos and videos in reviews:
description
Every fisherman on ice fishing is faced with the problem of securely and conveniently fixing a winter fishing rod near the hole. The snow around the hole is wet and the ice fishing rod installed in it freezes over time, which causes inconvenience when fishing and hooking. In the absence of snow, it is also difficult to securely fix the ice fishing rod on the ice. In addition, the method of installing a ice fishing rod does not guarantee its fall into the hole when biting and as a result of its loss.
A holder Etovashe for a ice fishing rod is a simple, convenient and reliable fixation by installing both in the snow with the help of a shovel and in the ice by screwing it in. The shape does not interfere with undercutting and, together with high-quality material, the holder is durable. The ice fishing rod holder is universal in size and will fit both the smallest and the largest ice fishing rods. Moreover, the design of the fishing rod holder provides for storage and transportation with an embedded ice fishing rod with a hooked hook for a special mount, and in this form the holder does not take up much space.
The holder Etovashe for a ice fishing rod of comfort and convenience in winter fishing, and allows you to save on the loss of ice fishing rods when biting.